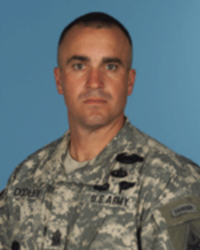 Battalion Command
Sergeant Major
CSM Dwight Dooley
CSM Dwight Dooley was born in
New Iberia
,
Louisiana
and attended Infantry Basic Training at
Fort

Benning
,
GA
in October of 1987. Upon completion he was assigned to 2nd Battalion, 22nd Infantry Regiment, 10th Mountain Division, where he served as a Scout Observer,

Ratelo

, Sniper/Observer, Scout Team Leader, and Squad Leader. CSM Dooley was then assigned to 5-9 Infantry, 6th Infantry Division, AK, where he served as Scout Squad Leader and a Rifle Squad Leader. CSM Dooley was then assigned to the 4th Ranger Training Battalion at
Fort

Benning
,
GA
, where he served as a Ranger Instructor. CSM Dooley was then assigned to 2-5 Infantry Manchu's, Schofield Barracks, HI, 25th Infantry Division (L), where he served as a Rifle Platoon Sergeant and Scout Platoon Sergeant.

Upon completion of his duty in HI, CSM Dooley then joined the ranks of the 187th Infantry "

Rakkasans

" at 3rd BN, 3rd BDE, 101st Division Air Assault,
Fort
Campbell
,
KY
where he served as a Rifle Platoon Sergeant. CSM Dooley was then DA selected to attend
Drill Sergeant
School
at
Fort Jackson
,
SC
and then assigned as a Senior Drill Sergeant and then First Sergeant in 2nd Battalion, 54th Infantry,
Fort
Benning
,
GA.
After completion of Drill Sergeant

duty

, CSM Dooley returned to the "

Rakkasans

", this time in 1st BN, 3rd BDE, 101st, Division where he assisted in the refit and transformation of the BDE into an IBCT. CSM Dooley served as the C CO 1SG and than deployed in September 2005 to
Bayji
,
Iraq
as the Headquarters and Headquarters Company First Sergeant.

CSM Dooley is a Class 57 graduate of the
United States
Army
Sergeants
Major
Academy
,
Fort Bliss
,
Texas
and was assigned as the 1st Battalion, 6th Infantry Regiment Command Sergeant Major since June of 2007.

Since 2007, CSM Dooley has deployed successfully to
Sadr
City
,
Iraq
and is currently the CSM for the newly reflagged 2-18 Infantry, VANGUARDS!

CSM Dooley has attended military schools and training programs to include: Ranger School, Drill Sergeant School; Airborne School; Air Assault School, North Warfare Course, Jungle Operations Course, Jump Master School; Scout Sniper Instructor; First Sergeants Course; Pathfinder School; Long Range Surveillance Leaders Course, and the United States Army Sergeants Major Academy, Class 57. CSM Dooley holds an Associates Degree in Applied Science from
Central
Texas
College
.

His awards and decorations include: the Bronze Star (1 OLC); Meritorious Service Medal (3rd OLC), Army Commendation Medal w/ V device, Army Commendation Medal (5th OLC); Army Achievement Medal (w/silver OLC), Good Conduct Medal, National Defense Service Medal; Iraqi Campaign Medal; Global War on Terrorism Service Medal; Armed Forces Service Medal; NCO Professional Development Ribbon; Army Service Ribbon; Overseas Service Ribbon; Drill Sergeant Badge, Ranger Tab, Combat Infantryman's Badge, Expert Infantryman's Badge, Pathfinder Badge, Senior Parachutist Badge, Air Assault Badge, and the Order of Saint Maurice Medal.